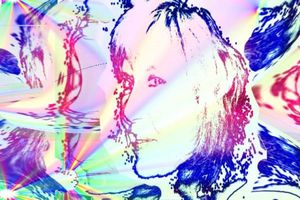 ABOUT
Waiting for Brenda is the original songwriter project of Brenda Lee Kelly. 
Brenda is a singer songwriter from Brisbane, Australia. Brenda writes about love gone wrong and right, tales of places travelled, songs of healing, despair, humour, poignancy, fun, puns & empathy. Having performed original music in several bands, Brenda enjoys collaborating with musicians from various musical genres be that Folk, Pop, Punk, Bluegrass, Blues, Americana, Rockabilly or Electronica with partner Damir Katic. This album/project (Friendly Disposition) was always planned as a collaborative project. It started as Brenda was undertaking chemo and about to go in for surgery. She thought of Neil Young when he had surgery before his brain tumour and began to start recording tracks with Damir (Dave). Although her energy levels were low due to the chemo this was a way to just put some guide tracks down so there was recording of songs somewhere on file. Brenda wanted to invite friends she had performed with over the past few years to come and play on some of the tracks.
As she began to heal she bought tickets for Billy Bragg but then COVID appeared so she joined with friends (who had also bought tickets for the now deferred concert) to start an informal Billy Bragg tribute band (Greg Eales, Tony Rosenberg, John Harrison, Martin Leonard, Garry Gman Bain, Luke Mysliwy). She was invited to perform her original songs at Neurum Creek Music Festival so out of the ashes of the Billy Bragg tribute and with a few extra friends the Waiting for Brenda band was formed that includes Craig "Billy" Tobin on drums (who she has played with in KiddnKelly Gang), Garry Gman Bain on guitar, Peter Cheney on bass, Luke Mysliwy on fiddle, John (Johnno) Harrison on lap-steel and dobro.  Over the past year Brenda has been recording with the Waiting for Brenda band and friends Martin Leonard, Anne-Marie (Dolly) Lawton, Kate Semple, Melinda "Fiddler" Coles, Glenn Kidd.  Damir (Dave) Katic provides the technical prowess in the Hibiscus Kave as Audio & Mixing Engineer with Luka Katic as photographer taking the snaps you see on the site with Lucy & Martin Leonard offering their editing skills on photos & Declan Bain. Luka and Dave both have provided the videographing for live shows as well as other band members partners and friends including Nicky Parker. Hydra Cramb & Cherry Orta recently also working with Luka on video production.
Brenda has always been a lover of all styles of music and been going to live gigs since she was a young teen. She is an avid collector of vinyl and cd's, loves to read music bios and watch musical doco's.  Born on the cusp she has always loved those two styles of music – Yes – Country and RocknRoll. From early days watching the Johnny Cash show with The Carter Family to teen days listening to Sex Pistols, The Pogues, Billy Bragg, The Clash, The Sports, The Angels, Blondie, Go-Betweens, The Go-Gos, Dylan, Patty Smith, Tom Waits, Kirsty MacColl and later Gillian Welch, Lucinda Williams, Justin Townes-Earle, The Decemberists and Jason Isbell with those eclectic group of artists inspiring her song "Punks not dead its gone country".
Brenda started writing songs in her 20's and learning to play a little guitar though it wasn't until 20 years later that she randomly sent in a song to the Tamworth Songwriters competition and was announced as a finalist that she began to share her music and start performing. She had a pause in her performing recently travelling overseas in 2018 for 4 months then undergoing 14 months treatment for cancer 2019-2020 and then Covid hit hence the project title "Waiting for Brenda" suggested by a fellow band mate.  Instead of performing spare time when not working her day job at a uni has been recording from home in the Hibiscus Kave with partner Damir and continuing to write sending recordings to musical friends for overdubs. Early 2022 saw Brenda with a broken shoulder and then Luke (Fiddle) with a broken collarbone and later in the year Peter (Bass) with a badly injured finger. However, it didn't stop the project with Damir continuing to record the songs with the Waiting for Brenda band and also bringing in friends to collaborate and play some fiddle on a couple of tunes, Guitar and harmonica (Glenn Kidd), Fiddle (Melinda Coles),  Bass (Martin Leonard) and backing vocals (Didy Harrison, Nicky Parker, Liz Kidd & Anne-Marie Lawton). 
She also performs in two other bands KiddnKelly Gang (members included Craig Tobin, Glenn Kidd, Charlie Meyer & Anne-Marie Lawton) & Scarlett Road (members included Anne-Marie Lawton,Melinda Coles, Kate Semple, Gabrielle Kerr, Lisa Clare, Helen Matheson, Terri Matthews). She previously performed in Wayward Angels and Arton Hillbillies (not forgetting also the short lived "Not Dwight There" & Arton Strummers.
She has recorded her original music with Wayward Angels (Wildhorse Mountain & She knows all the words to Patsy Cline) which was funded by a Queensland Regional Arts Grant to promote women in bluegrass, KiddnKelly Gang (Woodford, Stella and Lonesome Girl) and her song "Lonesome Girl" was included in the Australian Ukelele Volume one compilation release. She has been a finalist multiple times with the Tamworth Songwriting Awards (TSA) and Australian Songwriters Association (ASA) for her songs "Wildhorse Mountain", "She knows all the words to Patsy Cline" "No Tears in Sunshine", "Xmas comes this year" and "Golden Guitar". Other original songs include "Jezebel", "Kirra Beach Boy Baby", "On a Tuesday", "Its all happening", "Nothings the Same", "Superinformation Highway Blues", "3am Blues", "Cemetery Gates", "4th July" "Friendly Disposition", "Carbon copy of my Heart" and a Waiting for Brenda release will happen by December 2022.  She continues to write, record and perform with the support of a loving family and close network of friends.  Although her latest recording (Album - Friendly Disposition) was recorded at home (Kitchen and Garage) recorded by Damir Katic and mixed and produced by herself and Damir Katic. In 2022, she received an RADF grant for $2000 to have the album mastered at Matthew Gray mastering.